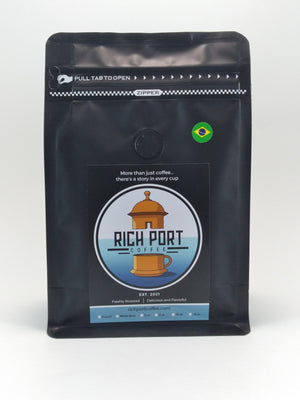 Brazil Coffee
Sale price Price $11.99 Regular price Unit price / per
 Coffee 100% Brazilian
 Medium Roast
 100% Arabica Coffee
About the Coffee

This coffee is a blend of 100% Cerrado region coffees. In Brazil the natural process means ripe and raisin cherries are collected, cleaned and separated by weight at washing stations. The pre-drying process occurs under the sun between 2 to 7 days or more (farmers favor full sun dried process whenever possible) and finalized in mechanical driers followed by 30 days of resting in wood boxes to homogenize the dry coffee.
At an altitude of 1200 and flavors of dark chocolate, brown sugar and granola.
This product is roast to order. We allow our freshly roasted coffee a rest of about 24 hours before packing and sending. 
For best taste t

ry on drip, French press and/or moka pot (greca).
Shipping not included