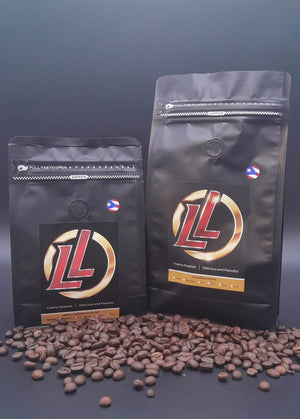 Lucha Libre Online PR Coffee
Sale price Price $11.99 Regular price Unit price / per
Coffee 100% from Puerto Rico
 Medium Roast
100% Arabica Coffee
This product is roast to order. We allow our freshly roasted coffee a rest of about 24 hours before packing and sending. 
For best taste t

ry on drip, french press and/or moka pot (greca).
Shipping not included
Is an honor for us to partner with Hacienda Tres Ángeles and his owner Mr. Melendez.  Hacienda Tres Ángeles is the first agro-tourism farm certified by the Puerto Rico Tourism Company. Located in the city of Adjuntas, Puerto Rico. Its cool climate and high mountains are an ideal place for the production of one of the best coffees in the world. Their high standard for the cultivation and production of coffee is the key in preserving and maintaining the quality of beans from harvest to cup. Recognized by the United Nations World Tourism Organization in 2015 as World Tourism Champions, one among six in America and one among twenty-eight in the world. They cultivate and produce one of the best Specialty Coffees in the world.